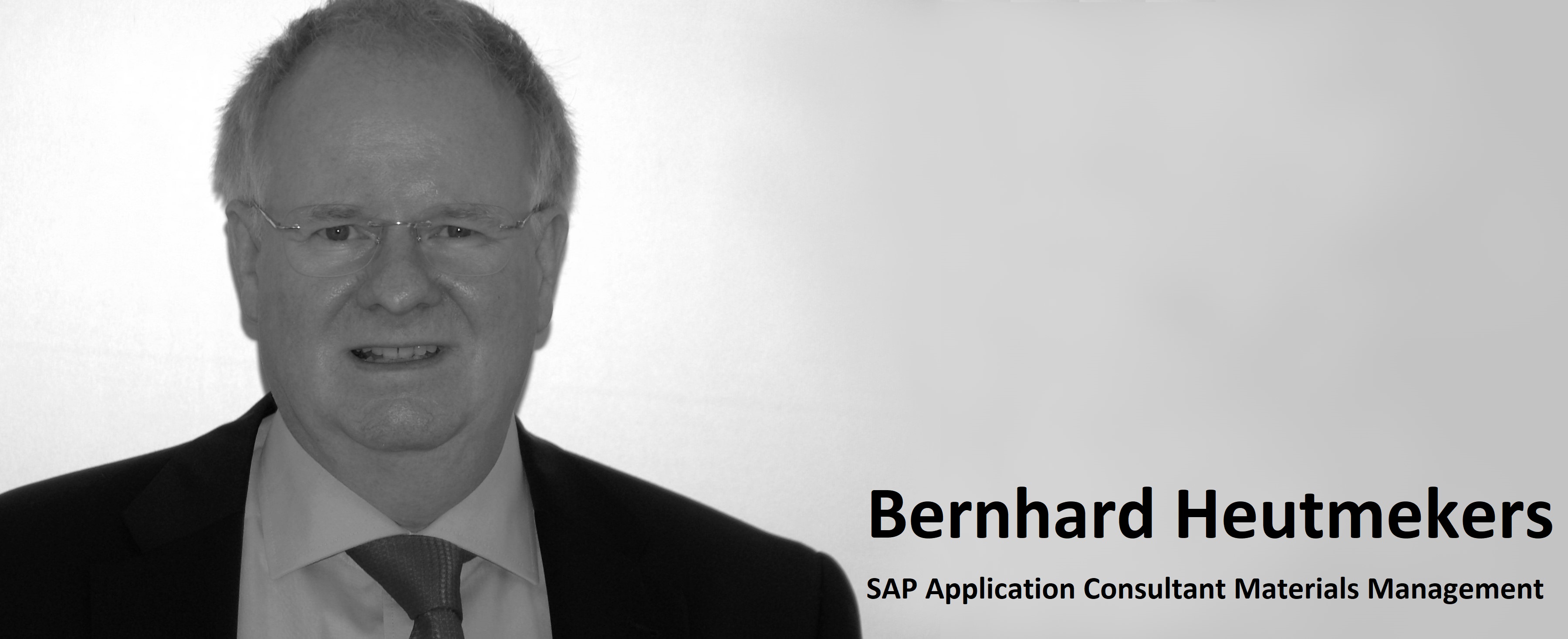 Mechanical Engineering
My projects in the mechanical engineering industry:
SAP MM Consultant on an Implementation and Support project at a Leading Surface-Finishing Equipment Manufacturer
As an SAP MM (SCM) Consultant I was responsible for the implementation of a new bonus agreement function in MM/FI, implementation of a new vendor evaluation in MM, and support of release strategies for PR and PO.
SAP MM Consultant on a Transformation, Support and Service Project at a Leading Electrical Device Manufacturer
Support of a SAP System, Release SAP ERP 600 EHP 7 HANA-DB, support mainly in MM and partially PP, utilizing Conigma for transports, incidents, customizing, small ABAP developments, tests, technical and functional specifications, user support, Idocs, master data monitoring, etc.
SAP MM/SD/PP/WM Consultant on an SAP ECC6 Enhancement Project in Germany in a Manufacturing Plant
My achievements: Implementation of a new plant for spare parts logistic, leading a team of key users, consultants, and developers; creation of a new plant and depending storage locations, blue print and implementation of new logistic processes, implementation of new material requirement planning methods, data migration lead, test support, QuickView reports, planning and conducting the implementation and go live schedule, go live support
SAP MM/WM Consultant on an SAP ECC6 Worldwide Template/Roll Out Implementation into a Russian subsidiary of a German Stock Noted Company
I managed as lead consultant the entire stock migration from legacy systems into SAP ECC 6.00, i.e. negotiations with FI regarding stock valuation, collection of data out different legacy systems, conducting the key users for data cleansing, collection and conversion, guiding developers for data download (iScala, other Russian systems), data conversion, upload, QuickView reports. Data: Stock, WM figures, import tax data (i.e. GTD numbers), different stock types as consignment stock, subcontractor stock, etc.
Further task: Implementation and documentation of many processes, as rework, scrapping, sales of waste, stock correction postings, others.
SAP MM Consultant on an International SAP Implementation in GB and USA
Purchase to pay process analysis and customizing, specifications for development requirements, support and issue resolution during integration and acceptance testing, functional assistance and support for the data migration team regarding purchase to pay data migration out of three legacy systems, preparation of authorisation profiles, end user training and Go-live support for Europe and USA, support of WM go live for plants in USA and France
SAP Upgrading, Carve Out, and Implementation Project in a Leading Company in the Semiconductor Industry, Germany, USA
Upgrading of the current system, blue printing of new global processes in logistics (e.g. vendor evaluation, production supply), customizing, test, training, go live and support of the new global SAP system
Client recommendations:
"...Mr. Heutmekers carried out every aspect of his work professionally to the highest standard...Given a chance we would always take him on for our future clients..."
"...I am taking this opportunity to recommend professional collaboration with Bernhard Heutmekers. As SAP MM consultant he took over responsibility for one of the most important and critical project migration task, i.e. stock migration from legacy system to SAP... Thank to Bernhard hard work and commitment to the project the stock migration process was done successfully and on time as planned....Bernhard has received much positive appraisal form the central core team as well as from the local team members. I am grateful for his considerable contribution toward project success..."